Paul D. Thompson, MD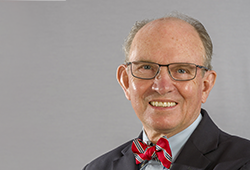 I cannot remember when we began supporting The Salvation Army, but it has been so long ago that I cannot remember not making an annual contribution. I would guess that we sent something annually ever since I finished my medical training and had something that we could give.
My father was a minister, who lost his job at a church when he was 62. My parents lived near Boston and my Dad did not want to relocate to another church at that age. He knew a Salvation Army Major who worked at The Salvation Army in Boston and this Major hired my Dad to be a counselor there. My father worked there and also in Brockton for the next ten years. He loved The Salvation Army and always told me about the good work it does with people. So, we support TSA because I am grateful that they helped my Dad and because of the great work they do with so many people in their times of need. We support the TSA because we know we can send our money and it will be used to do the most good. We trust TSA to use my money to its maximal benefit.
We use the Donor Advised Fund (DAF) because a person who advises me set it up several years ago because that year had special tax benefits. It enhances our giving because it is invested and grows so that we can give more than we could afford to otherwise. We want to leave this world knowing that we did our best to make it a better place for others. So, our philanthropy is designed to help groups that help people.
Paul D. Thompson, MD
Chief of Cardiology - Emeritus, Hartford Hospital
Professor of Medicine, University of Connecticut